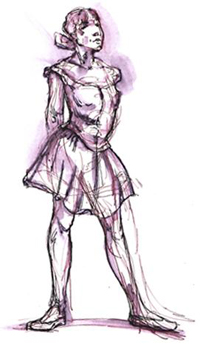 Order our
Instructional Drawing Videos
examples of the videos can be found on our youtube channel
Philosophy Statement
We here at Sheldon's Art Academy seek to provide each student with the best art education possible. The curriculum we have developed successfully combines the Florentine school used by famous Renaissance artists such as Michelangelo, Rubens and da Vinci, and the Chiaroscuro school of Rembrandt and Frans Hals. Thus, students are not only taught the linear techniques of the Florentine school, but also the tonal qualities that the Chiaroscuro school is so famous for. These centuries' old techniques are taught with a sense of fun and humor as students are allowed to pick their own subjects and learn to draw in a relaxed studio atmosphere.
Students studying under Sheldon will learn these age-old fundamentals of drawing and painting used by the masters themselves. Each skill and technique they acquire will follow them for the rest of their life and will be used in all their future drawings and paintings. Learning is a partnership between the teacher and student, and together, we will explore the world of shapes, forms, tones and perspective.
Art is a language unto itself, one whose alphabet is composed of circles, cylinders and rectangles. Like any language, it takes time, practice and plenty of perseverance to learn. Sometimes, students will progress spectacularly. Other times, they will hit plateaus. Every student will encounter a different journey, different obstacles and different learning curves. Like any martial art or dance form, students will have good days and bad days. All this is part of the learning process and we will be there for the student every part of the way, working through the plateaus and helping them to progress and achieve new heights.
The principles taught here are those used by world-renowned industry artists, but we present them to our students in the most accessible, most creative way possible. It is with pleasure that we welcome you aboard Sheldon's Art Academy, we may not promise you miracles, but it will be a fun ride.
Join us on...
More About Us!


Send us an E-Mail at sheldonsartacademy@sbcglobal.net



Send us an E-Mail to sheldonsartacademy@sbcglobal.net